"I'm not flexible enough" & Other Reasons People Don't Do Yoga
"I'm not flexible enough"
and Other Reasons People Don't Do Yoga
A couple of months ago, I put out a post on Facebook asking about what stigmas/perceptions people have about yoga and what prevents them from going to a yoga class. The array of answers was varied but ultimately shook out to a few common denominators that inspired me to look at the culture of yoga in the western world and look at the responses.
So what were the common denominators? In no particular order of most common:
Time

Money

Appearance

Ability
In some ways, not having enough time to make it to a class is not something that I or anyone else can help you with. If you really want to practice, you will find a way to make time for it whether it be at home or making it to a studio class.
A related time hurdle is thinking, "I need an hour to do yoga." 5 minutes, 20 minutes, 45 minutes of yoga is better than no yoga at all. Fit it in where and when you can because smaller, more frequent practices are more beneficial than making it to a class every once in a blue moon (even though it's all good!).

As for money, appearance, and ability, we have social media and capitalism to thank for many of people's perceptions of yoga that also contribute to why they may not make it to class. These three combined bring to light the gentrification of yoga and a feeling of exclusivity that sometimes comes through despite the singings from the rooftop that "yoga is for everybody!".
Yoga can seem like an expensive endeavor depending on where you live and how regularly you want to practice. Many studios have drop-ins that are $18, $20, or even $30 if you live in a bigger city. Memberships are a great way to keep you consistent, accountable, and motivated in your practice and usually breakdown to a reasonable $/class average. At Mudita, we want yoga to be accessible for more folks and have a reasonably priced drop-in of $10 with the option of a 10 class punch card for $80.
Ultimately, your health is worth investing in because when we lose our health, everything and everyone else in our lives is affected. Yoga is a great investment in your overall health and wellbeing.

It saddened me to hear that not having the right gear and clothing are factors holding people back from an amazing practice of mindfulness, community, exploration, and self-discovery.
Despite what your Instagram feed is telling you, you do not need to be a thin, petite, white woman with perfectly done make-up and a matching sports bra and leggings set with a $100 mat to practice yoga. The reality is that most people show up to yoga in a t-shirt and leggings that likely have a hole or two and are see-through on the butt when they fold forward. Chances are there are more $12 mats from TJMaxx in class than you might think. Yoga doesn't care what you look like or how much your mat costs.
Yoga (and hopefully the teacher and people in class) also doesn't care what your weight or level of fitness/experience is. I can understand being uncomfortable in your body. The thing is, yoga is a practice that doesn't judge and can meet you exactly where you're at. Knowing your resources and how to tap into them is a huge step on your yoga journey!
for overcoming hurdles & having a positive yoga experience
My first suggestion is to find a class that is in line with what you are looking to achieve or experience. If you've never taken a yoga class before, a vigorous vinyasa class is likely not the place to start. If you're wondering what class is right for you, read through class descriptions on a website or send a quick email to the studio or teacher. Try multiple classes because every teacher presents things a bit differently. Taking a class that is a "just right" fit for you can make your experience one that you want to return to again and again.
My next suggestion is don't be afraid to ask questions. Not sure if your toes are pointing in the right direction? Hamstrings feel like they're going to snap? Confused about breathing? Ask, ask, ask! This is your practice and you're only cheating yourself if you are uncertain. It's okay to ask during a class if you need immediate feedback and it's also okay to save your question for after class.
Another valuable tool is private or small group lessons. These are great if you are intimidated by attending a group class, have specific goals that you want 1:1 guidance in working toward, just getting to know the practice, or are returning to practice after an injury. Yes, private lessons come with a higher price tag, but you don't have to do them forever. They are a worthwhile investment in setting yourself up for success so that you can garner more from subsequent classes.
Please, please, please, don't be afraid to use props (or ask how to use them!) to make a shape more comfortable and easier to access.
Props = space and freedom
Props do not = weakness or inability
Yoga is about creating a calm, steady mind so that we may ultimately know our truth. We often start with asana, the physical postures, because our bodies produce visceral sensations and experiences for our mind to process and practice with. It's much more challenging to focus on the movement of your breath if all you can think is "oh god, when is this pigeon pose going to end?! My hips are going to implode!" Let's add a blanket under the hip and make the posture just the right balance of ease and challenge to keep the breath moving smooth and steady rather than gritting your way through.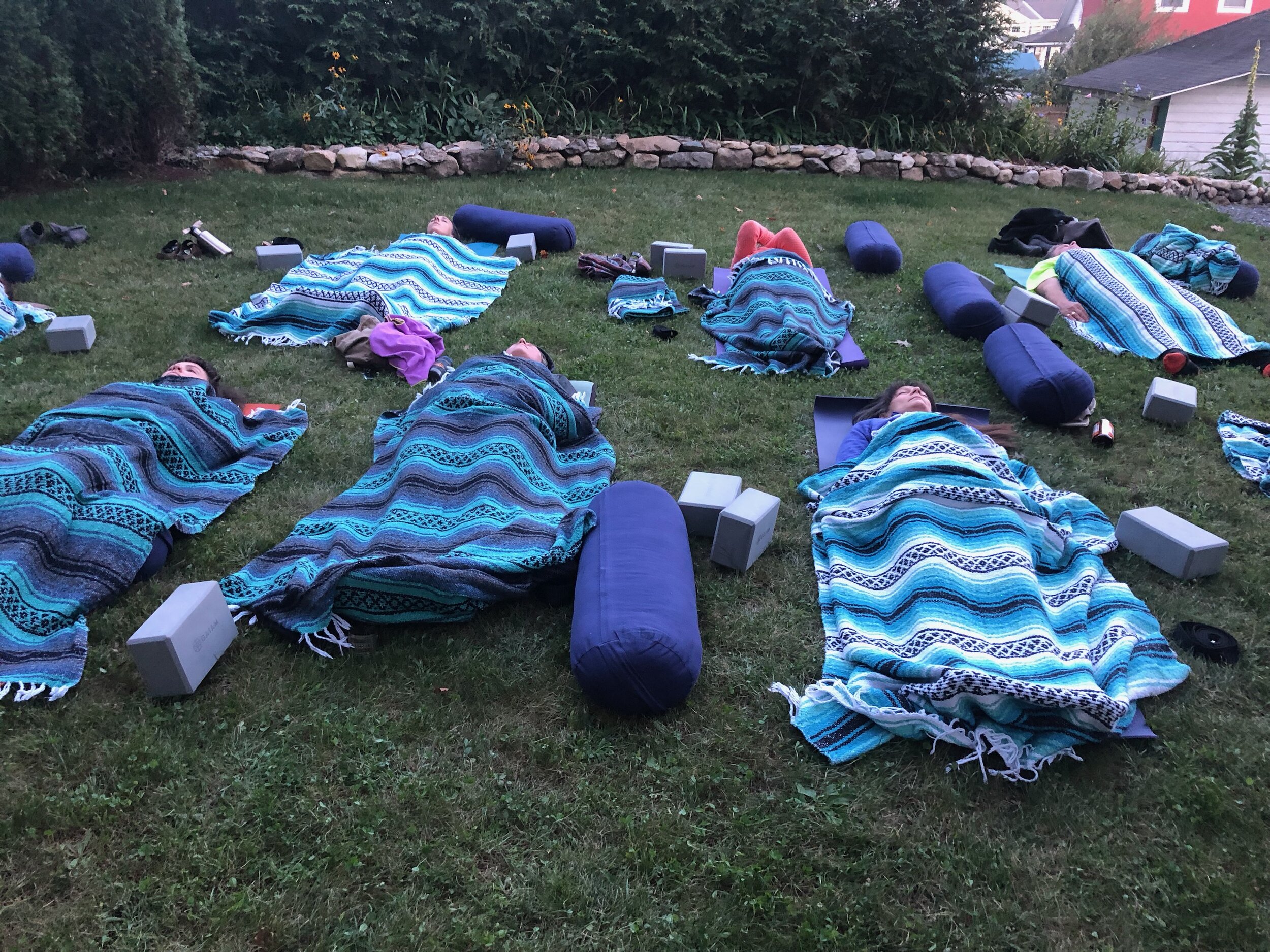 In short, there are a million and one reasons why we can't make it onto our mat today and most of the portrayals of yoga in the media are not helping us get there any easier. Yoga is a practice that is for YOU. Remind yourself of your original inspirations, intentions, and reasons for practicing. Set a timer for 10 minutes and just lay on your mat.

Make it happen, because not being the right weight or having the right clothes or being flexible enough does not outweigh the benefits of everything yoga has to offer.
I look forward to practicing with you soon,
Kat